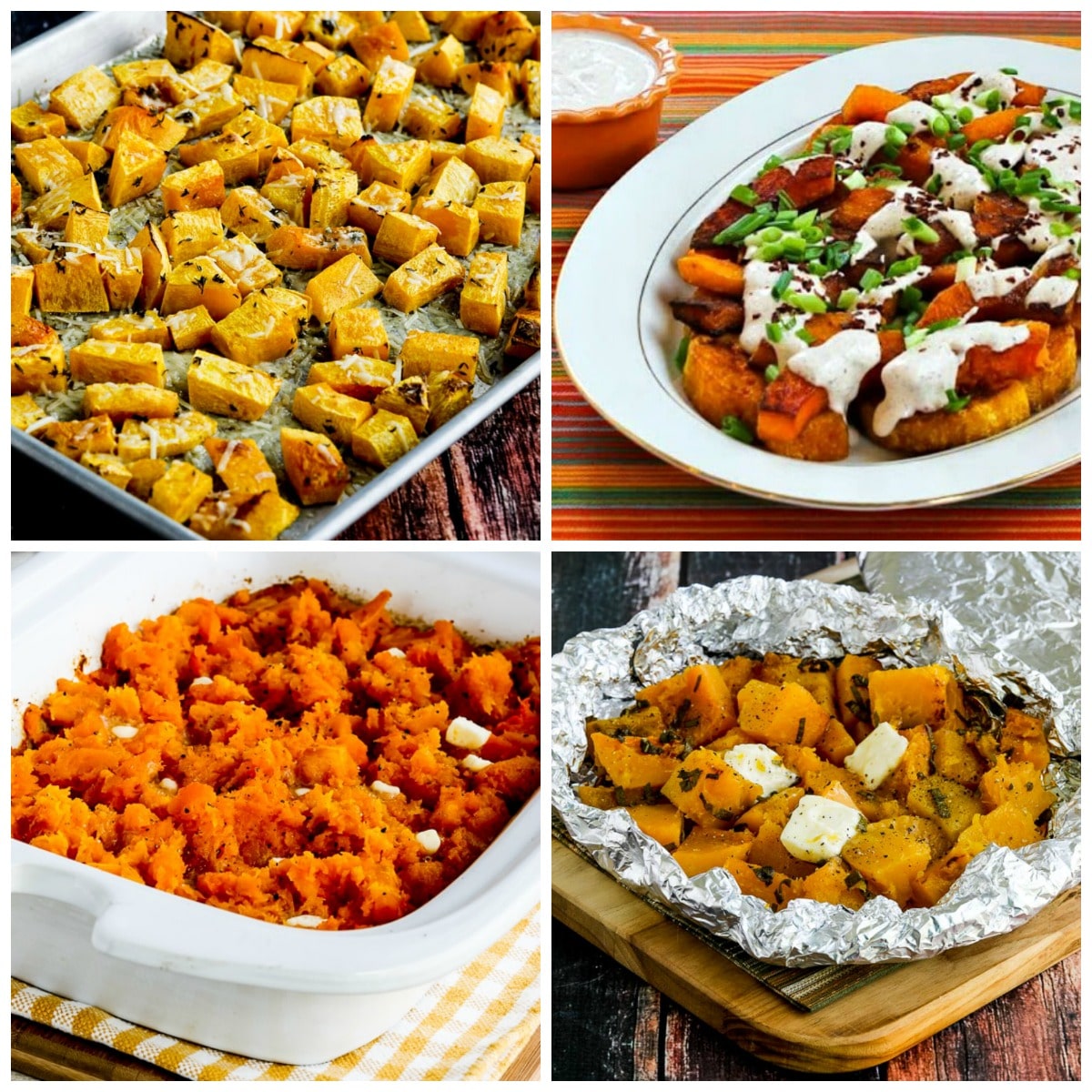 My Top Ten Butternut Squash Recipes
Even if it's a splurge on carbs when it's Fall I have to have some Butternut Squash, and here are My Top Ten Butternut Squash Recipes! And this post also features ten more amazing ideas for butternut squash from other blogs.
My name is Kalyn and I'm a butternut squash lover! I know it's not a super-low-carb vegetable but for me it's a treat I look forward to every fall. And I've got some tried-and-true recipes for cooking butternut squash, so today I'm sharing My Top Ten Butternut Squash Recipes.
I inherited the butternut squash appreciation gene from my Grandma Denny; Grandma would hack apart giant butternut squash from her garden, scrape out the seeds, and wrap pieces in foil and bake them in the oven. We'd eat the squash mashed up with lots of butter, salt, and pepper. Now I'm more likely to cut the squash in cubes and roast it with olive oil, but pretty much any way you cook it, I love the savory flavor of butternut squash. 
And one thing I discovered when I was checking nutritional information for these recipes is that serving size makes a big difference for higher-carb veggies like this. But if Butternut Squash is too much of a carb splurge for you to want even a small serving, check out some of the on the blog!
Is Butternut Squash hard to cut up?
If you're not that experienced at cooking Butternut Squash you might want to ready my post about before you tackle one for the first time. Some stores sell squash cubes already prepped, but I think freshly cut squash has more flavor. You can definitely use the pre-cut ones if you prefer though, and they're great for soup!
This is definitely a wow for me! Use even more cheese if you'd like!
This has those middle eastern flavors that I always enjoy!
This is great to make for a crowd, and I love how it also keeps it warm during the meal. Use the (affiliate link) if you have one, but this can also be made in any large oval slow cooker.
This is a meatless soup recipe that even carnivores will love!
has been one of the most popular butternut squash recipes ever posted on this blog, and I love the flavor combination here!
This  was something we couldn't stop eating when we made the recipe again to take new photos!
Lots of butternut squash soups have Southwestern flavors, and this has some of my favorite soup ingredients! (I love cilantro in this soup, but just use thinly sliced green onion if you're a cilantro-avoider.)
is loaded with flavor, and this post also has 10 More Ideas for Roasted Vegetables.
This is an old photo for , but this recipe is so amazing I had to include it. Don't let the photo stop you from try it if you like those ingredients!
 is an amazing soup I've made many, many times.
Butternut Squash from Other Blogs:
~ Diethood ~ Cafe Johnsonia ~ Taste and Tell ~ The Perfect Pantry ~ Food Renegade ~ Eats Well with Others ~ Gimme Some Oven ~ Jeanette's Healthy Living ~ Cookin' Canuck
Are you a butternut squash fan like I am? If you're a fan, let us know in the comments about how you like to cook it!
Read More
Foody Chum
Disclaimer: This story is auto-aggregated by a computer program and has not been created or edited by Foody Chum.
Publisher: Kalyn's Kitchen