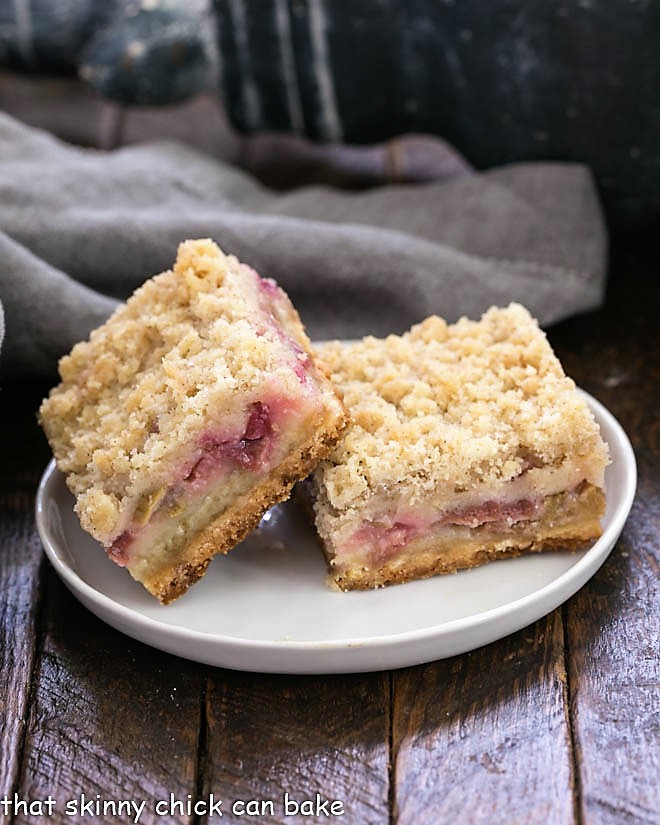 These multilayered Rhubarb Bars have a shortbread crust, a juicy, sweet, tart rhubarb filling, and a crumbly streusel topping! It's the perfect summer treat for rhubarb lovers!!
Since the hubby is not a fan of rhubarb, though I'm not sure if he's ever even tasted it, I had to share these Streusel Topped Rhubarb Bars with some friends with more adventurous palates. I knew I wouldn't be the only fan, and these got rave reviews!
Streusel Topped Rhubarb Bars
I'm a fan of fruit bars, like these streusel-topped Raspberry Squares. They're an easy way to showcase seasonal fruit without having to make a double-crusted pie or tart. And as much as I love my Rhubarb Pie, this rhubarb bars recipe just might trump my pie recipe! This rhubarb recipe is a delicious way to showcase a seasonal vegetable we bake up like a fruit!
How to Make a Rhubarb Bars Recipe
First, prep your pan. Lining with non-stick foil helps make cleanup a breeze, plus offers a built-in sling to remove the bars to a cutting board to slice.
Alternatively, you can simply grease the pan.
Make the crust using cold butter, press onto the bottom of the pan, and bake.
While the crust is baking, make the filling. Pour over the baked crust, then top with the cinnamon streusel. Squeeze bits of the streusel together with your fingers to make a few larger crumbs.
Bake as directed, and watch for the filling to bubble indicating it's done.
Can You Freeze Rhubarb Bars?
Rhubarb Bars won't freeze especially well since the filling is moist. As they defrost, the streusel topping will absorb some of the moisture, so the quality will definitely suffer after freezing. That said, if you love these so much and some softening of the crumble doesn't bother you, go for it!
How Do you Store a Rhubarb Bar Recipe?
They can be kept in a sealed container at room temperature for the first day. Since they will soften as they sit, it's best to move them to the refrigerator after that. They'll keep well in the fridge up to 3 days.
How to Pick Fresh Rhubarb?
If you're growing your own rhubarb, wait until the second season to harvest. When the stalks are 12-18 inches tall, you can grab a stalk at the base and remove with a gentle twist.

The best time to harvest is spring to early summer. Look for firm stalks with shiny skin, and without blemishes.
Welcome to Progressive Eats, our virtual version of a Progressive Dinner Party. This month's theme is a Vegetarian BBQ, and our host is Susan who blogs at
The Wimpy Vegetarian
. If you're unfamiliar with the concept, a progressive dinner involves going from house to house, enjoying a different course at each location. With Progressive Eats it's a virtual party. A theme is chosen each month, members share recipes suitable for a delicious meal or party, and you can hop from blog to blog to check them out. Come along and see all of the delicious barbecue inspired dishes!
More Bar Cookies You'll Love
Streusel Topped Rhubarb Bars
The Best Rhubarb Bars with a shortbread crust, sweet fresh rhubarb filling and a buttery crumb topping!
Ingredients
Crust
1 cup flour
1/3 cup powdered sugar
6 tablespoons cold butter
Filling
1 1/4 cups sugar
1/4 cup flour
1/2 teaspoon salt
2 eggs, slightly beaten
3 cups diced fresh rhubarb
Streusel Topping
3/4 cup flour
1/2 cup sugar
1/4 teaspoon cinnamon
6 tablespoons cold butter
Instructions
Preheat oven to 350°.
To make the crust, combine whisk together the flour and powdered sugar in a medium bowl. Cut in the butter with a pastry blender or in a food processor until crumbly. Press into an 8x8 or 9x9-inch square pan lined with nonstick foil. Bake for 16-18 minutes or until starting to brown very slightly. Remove to a cooling rack.
For the filling, combine the sugar, flour, and salt in a large bowl. And the eggs and mix until well combined. Mix in the rhubarb, and spread over the crust. Set aside while making the topping.
To make the topping combine the flour, sugar, and cinnamon in a medium bowl. Cut in the butter until crumbly. I like to use my fingers to squeeze the topping into bigger crumbles. Evenly sprinkle over the filling.

Bake for45-50 minutes for a 9 x 9-inch pan or 55-60 minutes for an 8 x 8-inch pan. Watch for some bubbling of the filling to indicate the bars are done. Remove to a wire rack to cool.
Notes
Adapted from Taste of Home.
Using an 8 x 8-inch pan will make thicker bars like mine, but a 9 x 9-inch pan works perfectly, too! Just bake for slightly less time.

Store in a sealed container at room temperature up to 1 day, then in the refrigerator up to 3 days.
Recommended Products
As an Amazon Associate and member of other affiliate programs, I earn from qualifying purchases.
Read More
Foody Chum
Disclaimer: This story is auto-aggregated by a computer program and has not been created or edited by Foody Chum.
Publisher: That Skinny Chick Can Bake